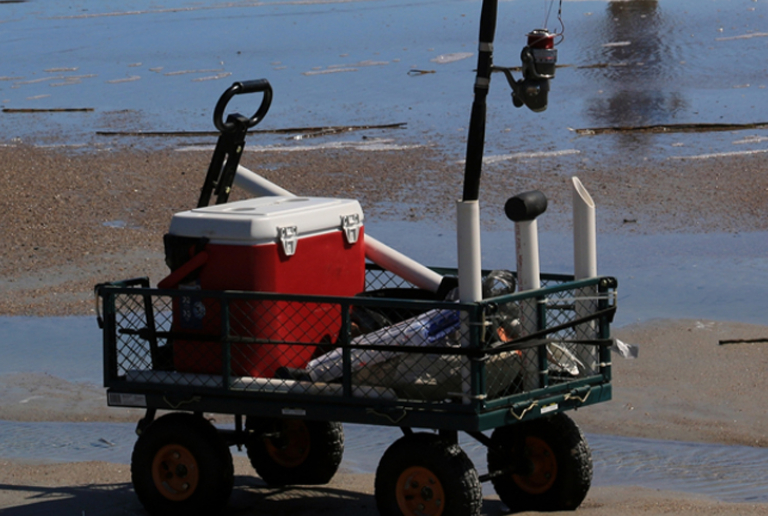 Does moving back and forth from the beach to carry your heavy fishing gears make you tired? Then, the time has come that you invest in a proper fishing cart. Whether it is holding your extra pairs of fishing rods, or the space to keep your coolers, or for the ease of rolling around your gears over the sand, the market provides you with several options. So, contemplate on the priorities and purchase the right fishing cart and fishing cart accessories. This article will help you to decide upon the requirements with a detailed description of seven awesome fishing carts available in the market.
Best fishing carts and accessories
Fishing carts are designed to make it easier to transport your heavy equipment over any harsh surfaces of beaches or piers. Fishing cart accessories can further enhance the qualities you desire and make your fishing cart a perfect assistant for your surf fishing experiences. Keep on reading to know about the various fishing carts available in the market.
Know More About : Types Of Fishing Nets
Fish and Mate
Fish and Mate fishing carts are one of the best fishing carts available in the market that is quite popular because of its reliability and multiple other features. Designed with 15-inch polyurethane wheels, the fishing cart is an ideal choice for easy transportability on the beach, pier, or your garden grass. It is a large cart made of aluminium that can carry a weight of 250 pounds and can be lightweight at the same time.
The fishing cart can hold 8-rod holders, a tackle box, two coolers, and an umbrella at a go. So, if you want to avoid multiple trips from the truck to the beach and back, opt for this immensely large spaced and lightweight fishing cart. The fishing cart accessories that include a detachable handle, stabilizer legs and vinyl rib tube covers enhance the products' usability.
Sea Striker BRSC Deluxe
Equipped with plastic pneumatic wheels, Sea Striker BRSC Deluxe is the best fishing cart option when being transported over extremely uneven terrains. The powder-coated metal finish of this cart makes it durable, strong, and rust & water-resistant fishing cart. It is capable of holding a 54- quart cooler that is perfect for most surf fishing expeditions. The storage can be broken down if you wish, but, the weight of the cart can be its biggest disadvantage. The fishing cart accessories that are easy to assemble are the most significant advantage of Sea Striker fishing carts.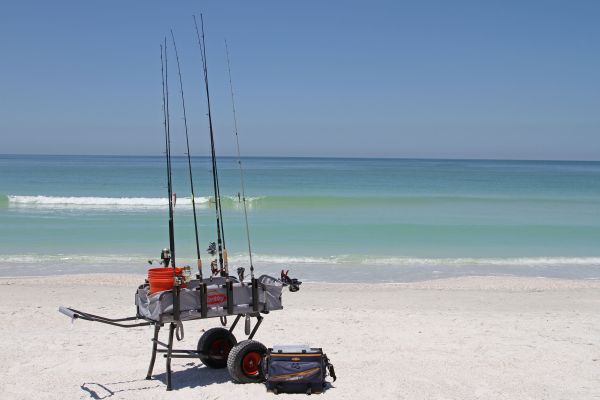 Berkley fishing cart
Available both at regular and jumbo sizes, Berkley fishing cart is available in sizes suitable for you. The smaller cart accommodates a weight up to 220 quarts whereas the larger ones can support coolers large as 48 quarts. The rust-resistant and heavy-duty wheels are other great features of the fishing cart.
The fishing cart accessories of Berkley carts like six removable rod holders, fabric liners to prevent sliding of gears and hooks & loop straps are commendable enhancements. The cart is also equipped with a foldaway cutting board with knife storage and bait-cup storage slots. The collapsible design also makes this cart a fantastic space saver.
Plus one pier fishing cart
These lightweight and portable fishing carts are perfect for any surface. The polymer make of the cart makes it a perfect weatherproof and rust-resistant one. Weighing around 23 pounds and the retractable handle allows it to be easily handled on bumpy sand. Similarly, the wheels that are made of foam rubber make it suitable in submerged water. The fishing cart accessories of 4 fishing rod holders and ample space makes it an ideal choice for your surf fishing.
Muscle Carts HDBC-Blue Fish and Marine cart
This large cart can hold a fishing bucket, rods, a cooler, and chairs with a lot of space to spare. The durable and robust make of the Muscle Carts makes it possible to carry a whopping weight of 220 pounds easily. Available with fishing cart accessories of five fishing rod holders and tires made of polyurethane, these carts are perfect for your surf fishing expeditions on beaches and piers.
Berkley's Sportsman Pro Cast Fishing cart
An extremely compact and affordable fishing cart, Berkley's Sportsman fishing cart can be easily transported and stored. Equipped with fishing cart accessories such as 4-rod holders, an integrated seat and a cutting board, this fishing cart is worth the money. The features like corrosion- resistant, lightness, and heavy-duty fabric to protect the gears, makes it an extremely likeable product.
Berkley's Sportsman's Fishing cart also comes with fishing cart accessories like telescopic handles and large pivoting feet that would save it from sinking. It can also carry around a weight of 300 pounds.
Fish-N-Mate junior carts
These carts are 10 inches smaller than its standard size but are a compact solution for your light fishing expeditions. The non-corrosive aluminium make of the cart makes it light and durable. Weighing around only 17 pounds the carts can be easily accommodated in most of the cars, and it also comes with fishing cart accessories like a removable bait bucket and cutting board.
Now you can select the fishing cart that is best suitable for you depending on the terrains or gears you are going to carry. Note that the wheels play a major deciding factor because sand is quite a tricky terrain for transportation, and you would need a perfect wheel for your cart on a beach.